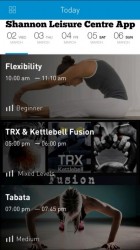 We are delighted to announce that Shannon Leisure Centre now has its own App for Android and iOS‼
This now allows you to book all activities including swimming lessons & camps, purchase memberships, supplements and fitness class cards as well as keep up to date with all that is going on at Shannon Leisure Centre including Special Offers.
To get this amazing app just search for 'Glofox' in iTunes or the Google Play Store and find Shannon Leisure Centre when prompted. Alternatively you can click here for iTunes or here for Google Play Store.
Don't delay as there will be lots of special offers available on the app over the coming weeks.