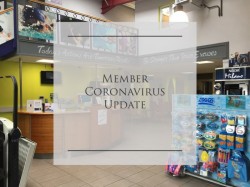 It's hard to believe it's only been 3 weeks since we reopened.
In this period of phased reopening there has been quite a number of changes:
Full lifting on booking restrictions for members
Gym sessions increased from 60 to 90 minutes
Addition of longer lane swimming sessions
Reopening of our baby pool
Reintroduction of showers in swimming pool.
Reintroduction of fitness classes
Reintroduction of swimming lessons
Reintroduction of Vending Machines
And most importantly of them all the reintroduction of the Coffee Machine‼️
To celebrate the access to caffeine we are offering €1 Coffee, Teas and Hot Chocolate until Friday 31st July. ☕☕
Why not grab a cup of our delicious Lavazza coffee after your workout. #GrabandGo
Lots more changes in the pipe line including online booking, extra swimming lessons, updates on changing facilities and queue coverings due in the coming days. Keep an eye out on our social media or join our mailing list for all updates.
Our designated "Booking a Session" page is now live on our website (Click Here).  Check out this page for details on how you can avail of our facilities. There will be number of steps to follow prior to visiting the Centre and full details of these steps will be found here.