Our very own Membership Referral Scheme is a great way to promote Shannon Swimming & Leisure Centre to the wider locality as well as providing the members with some direct benefits. The scheme was introduced in January 2016 and works in the following way: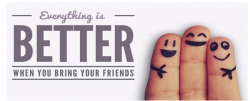 1. As a member, you refer a new member.
2. If they sign up to a minimum of a 6-month membership both the existing member and the new member will receive one month free which will be added to their accounts.
3. There is no limit to how many people you can refer.
T&C's
Member referral scheme is for new members only and does not apply to renewals
Not available in conjunction with any other offer
Not available to immediate family members
To avail of the Membership Referral Scheme simply email the following details to info@shannonleisurecentre.ie
• Existing members name
• Existing members member code (found on swipe card)
• Proposed new members name
• Proposed new members contact phone number
When the new member signs up they will reference the person who has referred them and extra month can be applied.