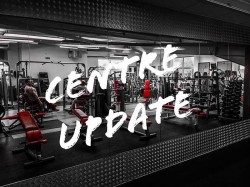 Unfortunately the country has moved in to Level 3 of the Government's 5 level plan which will have significant impact on our activities.
We are allowed to stay open and individual training is allowed but there are a number of changes:
▪️No indoor exercise/fitness classes including water based fitness classes such as aqua aerobics
▪️Outdoor activities allowed up to 15 people
▪️Indoor sports are cancelled
▪️Group swimming lessons are cancelled
▪️Private swimming lessons are allowed to continue
▪️Swimming clubs can continue to train but the numbers in lanes are reduced
▪️The playground will remain open
Changes will come into effect from midnight on the 6th October.
With the deteriorating figures surrounding COVID-19 we are now asking everyone to wear a face covering when entering the Leisure Centre. When you get inside the gym, pool or halls you do not have to wear them and can take it off.
We would also like remind and encourage everyone to use the hand sanitising stations as you enter the Centre and throughout the building
We are very disappointed to be delivering this news. We had hoped that the country would be reverting back to more normality but sadly this is not the case.
The Team.