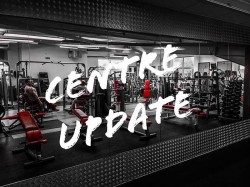 After a long wait, we are delighted to announce the reopening of Shannon Swimming & Leisure Centre from the 8th June 2021
To coincide with the Governments Living with Covid strategy you will see a number of small changes to activities since your last visit.
Pre booking of your swim session is no longer required. Please note however a max bather capacity is in place. If the pool full you may be asked to wait a few minutes until a space becomes available.
Pre booking your gym session is still not required
When using the gym, you are still required to bring a large towel with you to place over the machines and wipe down the equipment after use.
Limited showers are available
Changing facilities for the gym and fitness classes are available with limited numbers
Indoor fitness classes are not permissible at this time. We do have a number of outdoor fitness classes available and you can see full details of these here.
Astro turf is available to book for outdoor training in groups up to 15 people
Swimming lessons are returning shortly. More details to follow.
Prior entering the Centre for the first time you will be required to fill out an online Self-Declaration form. Please note this is a one-time requirement only.
You are required to wear a mask in the building at all times. The only exceptions to this are:

When using the gym (optional)
When you are in the swimming pool
You are required to sanitize your hands when entering the building
Please note, all pay in full memberships will be unfrozen from the 8th June. Any time lost as a result of COVID-19 closures will be automatically added on.  All direct debit memberships will also be reactivated from the 8th. First payment from your bank will be soon after.
We would like to thank you for all your patience and understanding over the last few months and we look forward to welcoming you all back on the 8th.
The Team