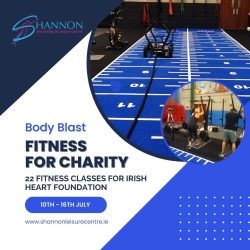 As part of the launch of our new Functional Fitness Gym, from Monday 10th – Sunday 16th July were are putting on 22 High Energy Body Blast Fitness Classes in our new gym to raise money for the Irish Heart Foundation.
Classes will start at 6:30am and will run throughout the day from Monday to Sunday. To see the full list of Body Blast classes available check out our website here
Click here to book a class. All classes are €5 which will be collected on the day
Please note: There is no charge for online booking. A collection bucket will be available at the door for €5 donation
We would encourage you to attend as many classes as you like throughout the week.
Looking forward to seeing you there!