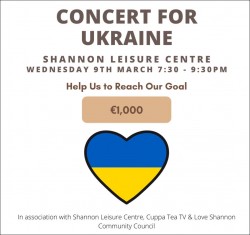 On Wednesday 9th March 7:30-9:30pm, Shannon Swimming & Leisure Centre is hosting a Concert for Ukraine to raise much needed funds for the humanitarian effort as a result of the devastating war in the region.
This is a free concert and run in association with the Shannon Leisure Centre, Damien O'Rourke of Cuppa Tea TV and the Love Shannon Community Council.
Acts confirmed are Irish Singer Songwriters Luca Bloom and David Hope as well as the wonderful sounds of the Shannon Gospel Choir
An online iDonate link has been set up for those who would like to make a donation
Donations will be accepted on the night to help us reach our goal of €1,000.
All donations will go towards the Irish Red Cross and helping Ukrainian refuges who find safety in our region.
Doors open at 7:15pm and seating is limited to 200 people.
A Facebook Event Page has been set up for this event
For fans of Dance & Zumba there is also a monster 2hour Zumba fundraiser for The Red Cross at Shannon Leisure Centre on Saturday 12th March 12:00 – 2:00pm.
This event is being organised by Fitness by Kasia Kowalska and the Facebook event page can be seen here.