We have some really exciting news!!!
We have teamed up with the amazing Irish athleisure brand Gym+Coffee to offer our members an exclusive 20% off their clothing and apparel.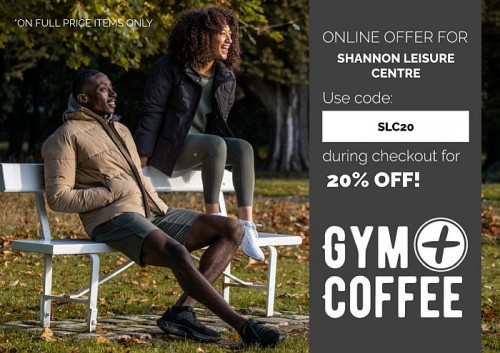 About Gym+Coffee
Gym+Coffee is an athleisure brand and community of people with a passion to Make Life Richer.
Proudly designed in Ireland, Gym+Coffee was created in 2017 by three friends on a mission to bring high quality athletic clothing to a nation that was quickly making the corner cafe and Ireland's stunning natural landscape the new social hubs.
Gym+Coffee are now Ireland's largest and most recognisable athleisure brand serving our community from our Clubhouses in Ireland and the UK and continuing to expand our online presence in Australia, North America, Europe and the rest of the globe.
For more details on Gym+Coffee including full range of clothing on sale see their website
Click here to see the full range of Gym+Coffee clothing. To avail of this exclusive online offer use the code: SLC20
T&C's
20% discount on full price items only
Offer open until 31st December 2021