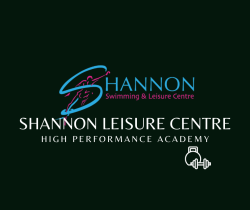 In 2014 Shannon Leisure Centre created the first community High Performance Academy in Ireland. The academy which was then launched by former Olympian Sonia O'Sullivan was established to award places to young sports men and women 13 – 17yrs based on outstanding achievements in sport and the strong likelihood of further accomplishments. Almost 10 years on we are looking to resurrect the spirit of this extremely successful programme.
To help alleviate financial pressures on families of aspiring young sports men and women, Shannon Leisure Centre are offering 5 free gym & pool memberships for those who would like a greater opportunity to fulfil their full potential. The Team at Shannon Leisure Centre will also assist all successful candidates with nutrition, injury prevention advice and bespoke training plans where required.
For more details of this amazing opportunity email karl@shannonleisurecentre.ie for more information. Applications will be accepted up until 31st October 2023.