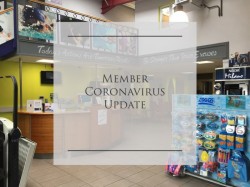 **Update 7th May 2020**
Due to further COVID-19 restrictions Shannon Swimming & Leisure Centre will remain closed until further notice.
____________________
Important Member Announcement
Due to the increased risk of COVID-19 and importance placed on protective measures required to combat its spread we will be closing the Centre from close of business 9pm this evening.
It is anticipated the the Centre will reopen for business on Monday 30th March but considering the ever changing landscape of the Coronavirus Pandemic this will be kept under review.
It is felt that this is the best course of action at this time and in the best interests of our staff and members.
With reference to the COVID-19 virus and memberships at Shannon Leisure Centre.
All Direct Debit payments from your bank account for memberships are frozen for the length of time that the government have protective measures in place. No money for memberships will come out of your account during this time.
For all non Direct Debit members your memberships have been frozen from Friday 13th March. When we return to business as normal your memberships will be unfrozen and all time will be automatically added onto the end of your membership.
We want to assure all our members that you will incur no loss a result of the COVID-19 outbreak.
We look forward to seeing everyone back on resumption of business
The Team.