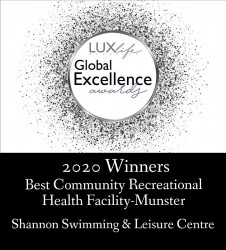 Awards season has been very kind to Shannon Swimming & Leisure Centre. We started off the week by winning "Leisure Centre of the Year" at the 2020 Corporate LiveWire prestige awards and we have finished off the week by winning "Best Community Health Recreational Facility – Munster" at the acclaimed LUX Life Magazine Global Excellence Awards!!
To say we are over the moon is an absolute understatement!
The Lux Life Global Excellence Awards honours the contributions of the very best of those whose aim is to be above and beyond the competition and who have demonstrated excellence within their sector. Winning one of the prestigious LuxLife Excellence Awards provides us with evidence that we stand out from the crowd as a leading recreation and fitness facility.
Even though 2020 has been a tough year there has been a number of shining lights Wining two fabulous awards have been one of them but seeing how well your Team performs under the adverse restrictions of COVID-19 is another
During the first few weeks and months post lockdown we were flooded with amazing messages of positivity from our customers about how they were made to feel most welcome on their return. They were very complimentary on the running of our facility and the amazing support shown to them by our staff. Winning awards is fantastic but hearing feedback like this makes it all the more sweeter.
Fingers crossed to a safe return to fitness in December