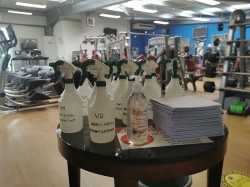 As part of our commitment to a greener Centre we are now providing an option of using reusable cloths in the gym to wipe down your equipment after use.
Over the past year or two we have invested quite heavily in upgrades that have significantly lowered our carbon footprint.
▪️State of the Art Low Energy LED Lighting has been installed around our entire building.
▪️A brand new Electronic Pool Blanket has been installed which significantly reduces the energy demands of both our main pool and baby pool.
▪️We have switched from standard coffee cups to our 100% Biodegradable and Compostable Lavazza Coffee Cups
▪️Both our Kids Pool and main Swimming Pool Filtration Systems have been retrofitted with Brand New High Efficiency Eco Sand which significantly reduces water consumption whilst increasing water quality performance
Shannon Leisure Centre is committed to its promise of providing the best sporting and recreational facilities in the region and we have more very exciting upgrades in the pipeline. More details will be published in the weeks and months ahead.