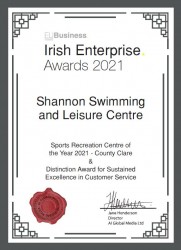 We are delighted to announce for the 2nd year running Shannon Swimming & Leisure Centre has been awarded "Sports Recreation Centre of the Year – Co Clare" at the EU Business News Irish Enterprise Awards 2021. We were also honoured to receive a "Distinction Award for Sustained Excellence in Customer Service".
We are so proud of these achievements as it acknowledges the hard work and dedication of everyone at Shannon Swimming & Leisure Centre
How the award was won: "Research was centered around an in-depth evaluation of skills and services on offer and the wider market reputation of each nominee was also taken into consideration. Case files were built following investigations into public domain sources which were used to determine the performance, achievements and contributions of each nominee, and were then presented to our panel for assessment." – Katherine Benton – Awards Executive, EU Business News
Hopefully this is a sign of more positive things to come for us and all other local Shannon businesses for the remainder of 2021.
Shannon Swimming & leisure Centre is a multi award winning leisure & fitness facility, to see more details of the amazing awards we have been lucky enough to receive click here.