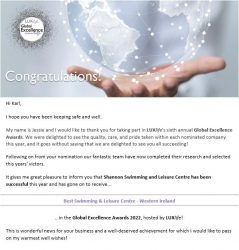 We are delighted to announce that Shannon Swimming & Leisure Centre has been awarded "Best Swimming & Leisure Centre Western Ireland 2022" at the recent Global Excellence Awards
How we were chosen:
Having opened for voting earlier in the year, the Global Excellence Awards internal research team have assessed and fact-checked each nomination submitted this year. They also gather additional findings from online resources available in the public domain, such as brand history, services, products, social media, presence within the industry, reviews, etc.
Final selection is made based upon evidence of expertise within a given field; dedication to customer/client service, satisfaction and retention; and an on-going commitment to providing excellent work.
On what's been a particularly busy year the Team at Shannon Leisure Centre are thoroughly deserving of this recognition. Our Centre and its fantastic reputation has been built by their commitment to excellence over the years. To consistently win awards of this caliber is a testimony to this. We are so proud of each and every one of you. Keep up the great work!!!
Click here to see more of the amazing awards we have won over the years